Clear Braces in Frederick, MD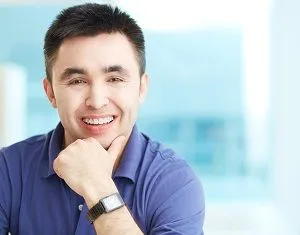 Whether you're an adult or a teen, we all want to look our best at all times. Too often, people forego important dental correction because they don't want it to interfere with their appearance. Traditional, metal braces are sometimes thought of as juvenile and awkward, and adults especially want nothing to do with them. However, addressing severe spacing and crookedness is important to your overall dental health, and should not be overlooked.
Why Braces Are So Important
For example, if your teeth are too far apart, you can have issues with food getting stuck and increasing the chance for decay and all the problems that come with it. If you deal with crooked teeth, the problems can range from scrapes inside your mouth to trouble chewing and speaking. Beyond that, the look of your teeth can impact your self-confidence. When you are not comfortable smiling or even speaking, it can harm your relationships, both personal and professional. Imagine the difference a straight set of teeth could make in your life.
If your concerns over metal braces are holding you back, it's time to know that there is another option. For a number of years, patients have enjoyed the benefits of clear braces. Those benefits are both for the health of the mouth and the aesthetics of the smile. As dentist Frederick MD, we have some amazing technology that will revolutionize the way you see braces.
How Clear Braces Work
Changing the way your teeth are structured takes time, and there are now ways to keep you looking your best during this period. Clear braces or ceramic braces are translucent. This new technology is available for most cases. The great benefit of these braces is that you won't have to have that metallic look. Also, clear braces are specifically designed so that they won't stain or wear over time.
Interestingly, clear braces tend to do a better job for teeth than things like Invisalign, and they cost less as well. While something like Invisalign makes a difference, it cannot provide the fixes on vertical issues (teeth of different height), very rotated teeth, serious bite issues or significant overcrowding.
Just like with traditional metal braces, you'll have regular visits to the office, and need to wear a retainer at night. While dental professionals used to say that one year with a retainer was enough, the field now strongly recommends wearing that retainer for years, perhaps for the rest of your life. This is the best way to keep the long-term results of wearing braces.
Our Office Is Serious About Your Dental Health
Clear braces and other dental advancements are among the reasons that our doctors make a point of keeping their skills fresh, and exploring the new techniques that enter the market. We certainly recognize that some new ideas are better than others, and take care only to adopt those that will truly improve your dental health and quality of life.
If you'd like to know more, please take some time to browse our website and check out the testimonial videos. Even if you have financial concerns, we are very interested in seeing you as a patient. Be sure to ask about our affordable payment plans for your family. Please get in touch with our office anytime, and we'll look forward to welcoming you as a patient!