Sedation Dentistry in Frederick, MD
Don't let dental fear stop you from going to the Dentist
Sedation Dentistry has allowed many patients with dental fear and anxiety to receive the much-needed care they need. Dr. Dave Verma and Dr. Arpana Vema have received advanced training in Oral Conscious Sedation. Traditional IV Sedation Dentistry incorporates setting up an IV to administer the drugs necessary to sedate a patient while Oral Conscious sedation uses medications taken by mouth to achieve a similar effect. Our goal is always to make our patients feel very comfortable while receiving any dental work.
Do you feel as though you have anxiety or a phobia when it comes to dental visits? If so, you are not alone. Our experienced dentists can provide you with Sedation Dentistry and Sleep Dentistry, so patients don't have to fear their visits. The sedation can be administered in a number of ways, including:
Oral sedation

The night before medications to decrease pre-appointment anxiety

Nitrous oxide, also known as laughing gas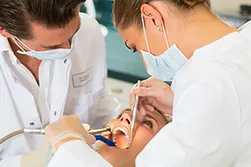 Apprehensive dental patients who request sedation or sleep dentistry are given oral medication about an hour before their appointments. This way, the patient will be in a lightly sedated state and will sleep through the appointment. Upon waking, the patient's dental treatment will already be completed. Obviously, patients will need someone to drive them to and from the dentist's office. So if you are looking for a Sedation Dentist in Frederick, MD come to join our family of patients. You will be glad you did.
If the idea of going to the dentist for a procedure brings on feelings of fear or anxiety there are options to ease the anxiety. Oral conscious sedation is as easy as taking a pill and you will feel relaxed and at ease. Oral conscious sedation does not "knock you out" like some other forms of anesthesia. You will remain awake during your procedure, but you will be in a heightened state of relaxation. It is also possible that you will not remember part, or all, of your procedure.
Oral conscious sedation is extremely safe and comfortable. It is much less expensive than other forms of sedation, and you will be able to talk and breathe on your own during the procedure. It also makes long or complex procedures seem shorter, allowing you to have all of your work done in a single visit. As an added precaution a local anesthetic will be given to the area that is being worked on to ensure that there is no pain. You will need to have someone drive you to and from the office if you use oral conscious sedation for your safety.
Sedation helps reduce stress
Your sedation dentist will help you relax during your visit by offering oral, inhaled, or intravenous medications that will relieve your feelings of anxiety and help you feel calm during your examination or treatment.
The pain won't be an issue
Although many people who have dental phobia say that they're afraid of the dentist, what most are actually afraid of is experiencing pain. Whether you had a bad experience at the dentist when you were young, or your phobia is more recent, sedation will not only help you feel more relaxed but will also increase your tolerance to pain. In fact, less anesthesia may be needed when you're under sedation.
Don't wait any longer to have necessary dental work performed because you are nervous. Schedule a consultation today to see how Sedation dentistry can help you get the dentistry you need and owe to yourself.
Are you interested in Sedation Dentistry?
Contact Frederick Dental Group in Frederick, MD at (301) 624-1001 for more information!